Corporate Seal
What is a corporate seal?
A corporate seal (or company seal) is used to authenticate your company documents.  There are two types of seals.  The first type is an embosser, which creates a 3-D impression on paper (a raised seal). The second type is an inked stamp.  The seal includes the company's name, incorporation year, and the state in which the company was incorporated.  It is used to indicate that a document has been approved by the company and, as a result, is used on a variety of corporate documents (e.g. contracts, agreements, minutes of meetings, etc.).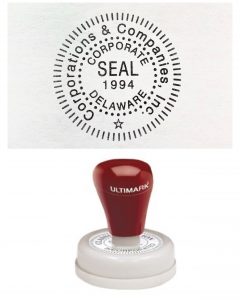 Where can I get a corporate seal?
A seal is included in every corporate kit order. You can order a corporate kit from CorpCo through our online order form, or visit our corporate kit page for more information.  If you do not need the entire corporate kit, you can contact us to order a seal as a standalone item.
Frequently Asked Questions
Do I need a corporate seal?
While the corporate seal is not generally a requirement, it can be used to stamp or emboss company documents and certificates to clearly show company approval of a document's or certificate's issuance. Examples of documents that can be stamped with a corporate seal include:
Stock/interest certificates
Minutes from company meetings
Resolutions
Company contracts, agreements, and bills of sale
Other corporate documents